Compliance and Design
SMART Scaffolder is part of CADS software, and leverages CADS' rich history in structural and engineering software to bring you Scaffold specific design and analysis software like SMART Compliance. Our close working relationship with the NASC allows us to provide better analysis of compliant as well as designed scaffolds.
Leg Load Reports
Produce comprehensive design reports for Tied independent scaffolds and Beam spans. Including detailed analysis of Leg loads, tie duties and wind factors. The software efficiently calculates leg loads for independent scaffolding, encompassing both inner and outer faces, as well as the standards that support bridges. It serves foundation and scaffold design, automatically deriving loads in compliance with BS EN 12811-1 and BS EN 1991-1-4, covering in-service wind, out-of-service wind, and notional loads. It accommodates diverse scaffold dimensions including bay length, lift height, width, and inside board specifications. Whether fully or partially boarded, with inner and outer edge protection choices, the software supports BS EN 12811-1 load classes 1-4, and varying board loading scenarios. It also provides optional features like light-duty cantilever fans and bridged openings.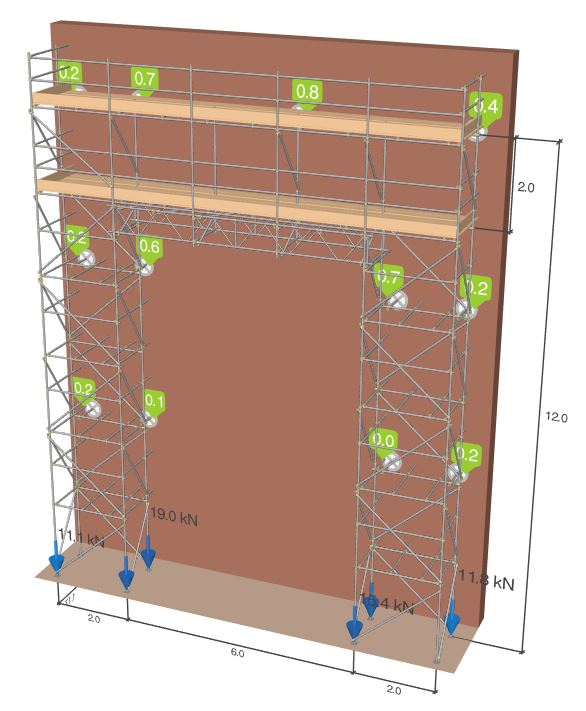 Tie Duty Reports
The calculation of tie duty for independent scaffolding becomes seamless with the integration of the innovative system. This system adheres to TG20:21 tie patterns, ensuring accurate calculations of tie positions. Furthermore, it accounts for dynamic factors like wind, effortlessly evaluating the wind's impact based on the specific site location. To ensure structural integrity, the tie duty is cross-referenced against the building façade's capacity, particularly if this capacity is already determined. The system also excels in load considerations, precisely computing loads as per BS EN 12811-1 and BS EN 1991-1-4, encompassing in-service wind, out-of-service wind, and notional loads. Even localised demands for higher duty ties, such as those supporting cantilever fans, are adeptly identified. This versatile solution accommodates various scenarios including unclad scaffolding, brick guards, debris netting, and sheeting. The inclusion of an optional light duty cantilever fan and bridged opening functionality further underscores its comprehensive capabilities.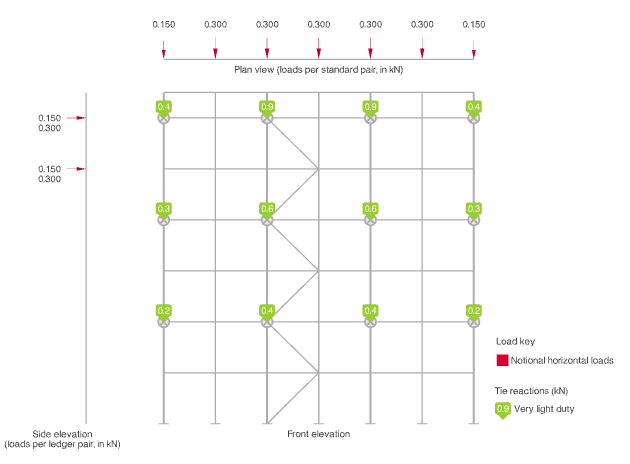 Beam Designs
Our software empowers you to meticulously examine bridged openings in tube and fitting independent scaffolding. From assessing the load takedown onto beams to factoring in both vertical and horizontal loads, SMART Compliance rigorously evaluates the moment and shear capacities of the beams, ensuring they can withstand the demands of your project. Additionally, beam deflection is considered to guarantee stability under pressure. Whether your project demands span or stability, our tool has you covered. With bridge spans of up to 20 metres (subject to chosen beam specifications), you can confidently tackle diverse project requirements.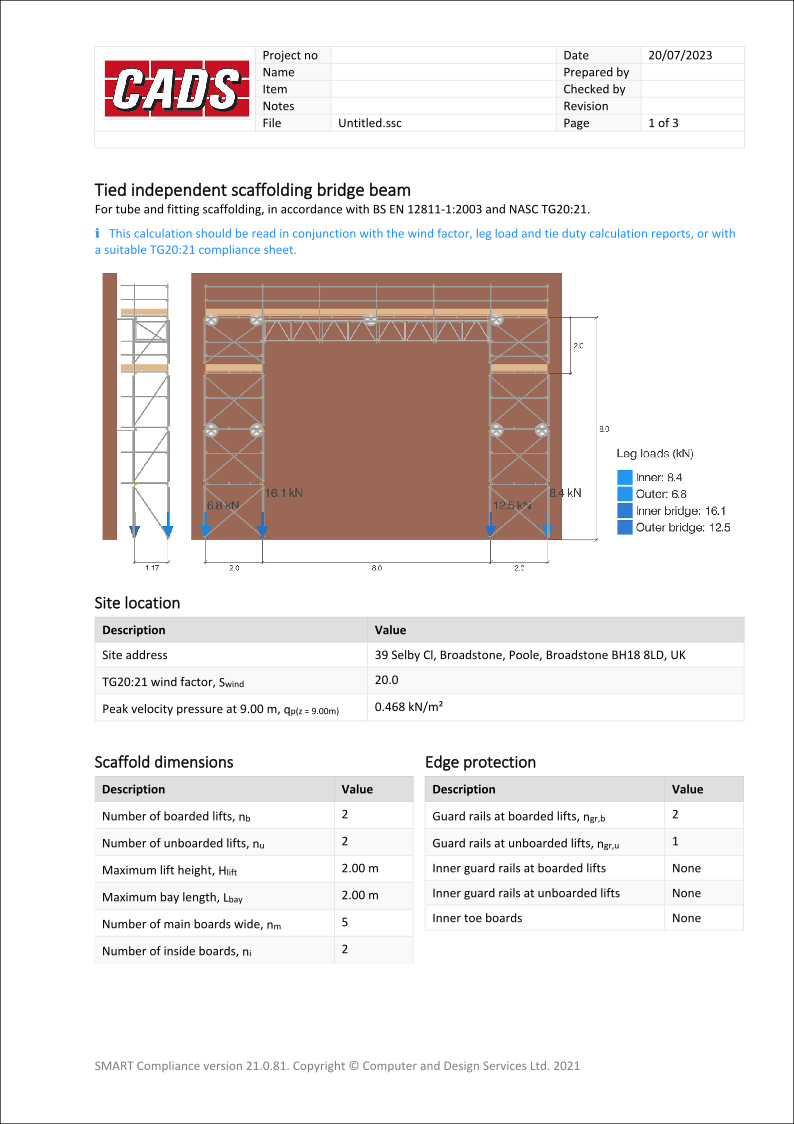 Wind Factor Analysis
Experience cutting-edge wind analysis with our comprehensive design tool tailored for sites across the UK, Ireland, and the Channel Islands. Our advanced technology seamlessly calculates the TG20:21 wind factor, ensuring accuracy and efficiency. We proudly adhere to industry standards, including BS EN 1991-1-4, and offer compatibility with the BS 5975:2019 code of practice for temporary works. Effortlessly determine the peak velocity pressure, generating precise equations ready for submission to your Temporary Works Department. Visualise your project like never before with an integrated 3D render of your site's topography, enabling you to make informed decisions.
Navigating complex wind data is now a breeze with our graphical wind rose chart, showcasing TG20:21 wind factors from twelve distinct directions. Our solution goes beyond wind factors, automatically considering site altitude, topography, proximity to the shoreline, and surroundings – whether urban, rural, or coastal. Say goodbye to guesswork; we provide an automatic assessment that ensures every crucial aspect is accounted for.
Revolutionise your site planning and design with our state-of-the-art wind analysis solution. Trust us to deliver unparalleled accuracy, compliance, and visualisation, empowering your projects for success.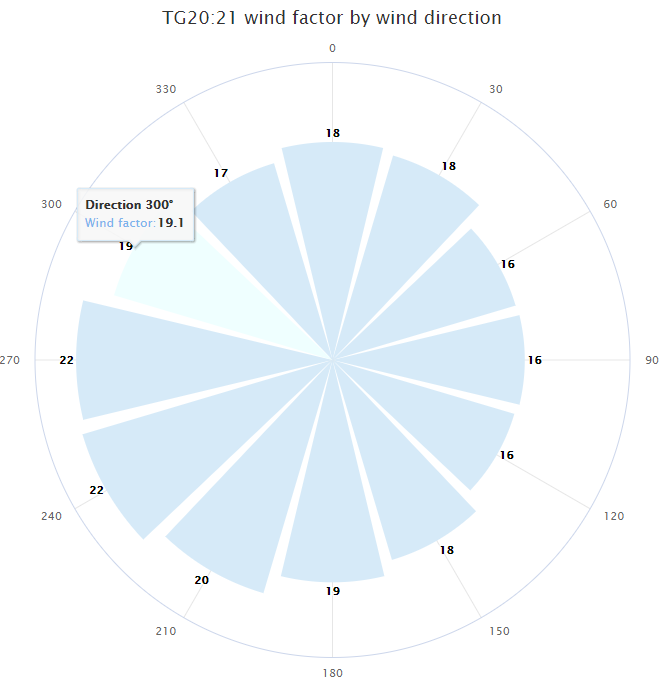 SMART Scaffolder and the NASC
In 2008 the NASC (National Access and Scaffolding Confederation) issued new guidance that impacted on all tube and fitting scaffold design in the UK. TG20:08 was developed in response to BS EN 12811-1:2003, which replaced the obsolete British Standard for tube and fitting scaffolding, BS 5973, providing wide-ranging advice on the construction of tube and fitting scaffolding, together with guidance for design engineers.
CADS has worked extensively with the NASC over many years, producing the interactive guide for TG20:08, co-authoring TG20:13 guidance and E-guide, and assisting in the production of the current NASC E-portal for TG20:21 compliance checking. We have worked closely with the NASC to produce the amended guidance for release in 2013 (TG20:13). The relationship continued for the subsequent TG20:21 update. The core software behind SMART Compliance was developed to produce the calculations for the TG20 projects. We have since expanded on that base to create SMART Compliance.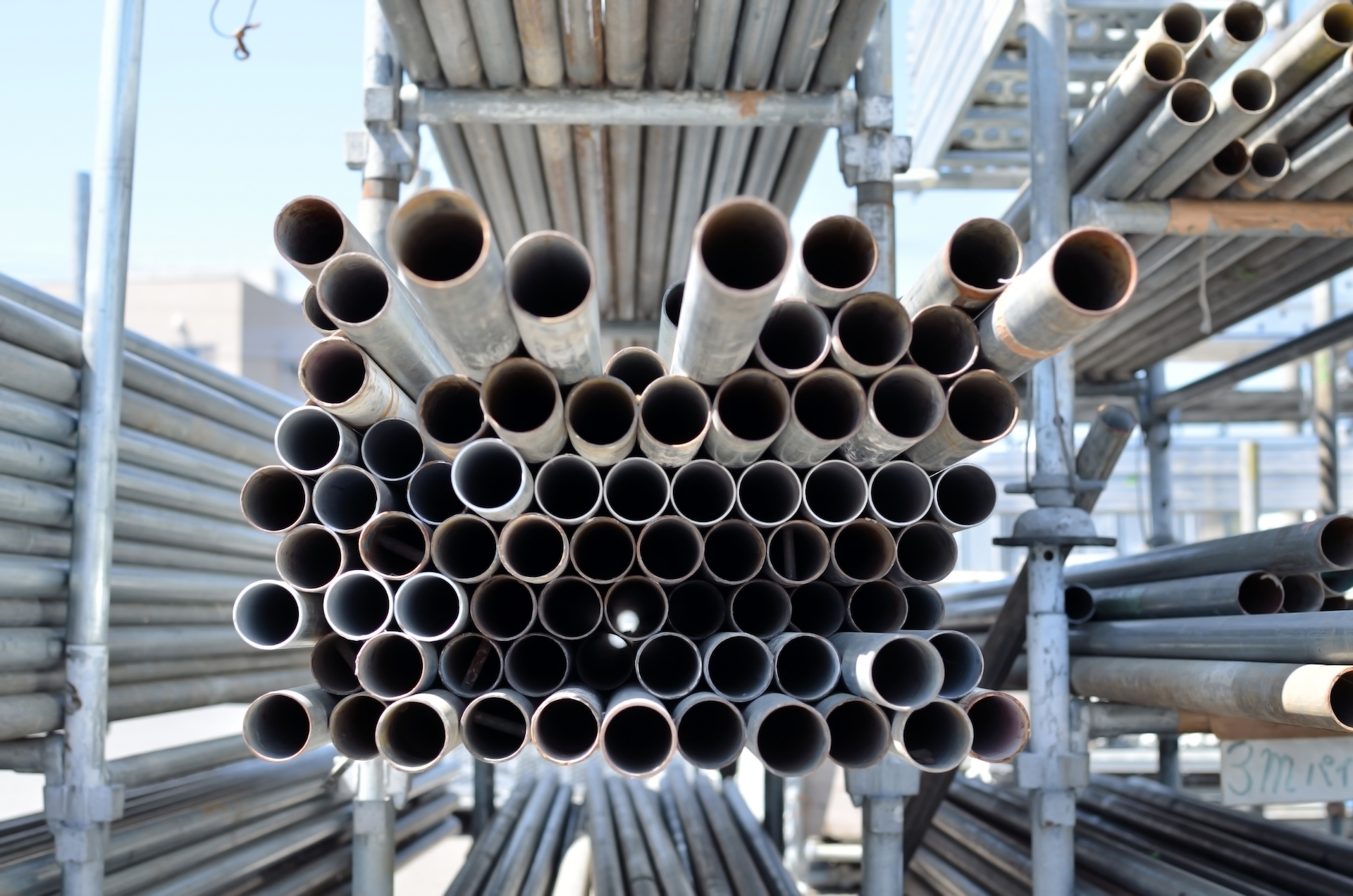 Fast, accurate Estimation and Quotations, produce detailed quotes in minutes not hours
Simple, reliable Inspections, handovers and tracking of Scaffold status
Shared Data model and integrations allowing you to seamlessly move from one application to another without duplicating effort
"You can't keep it all in your head. Project control tools are an absolute necessity for the control of large projects."
Louis Fried
Read our testimonials